Rising Sun and Pouring Rain.
A Travelogue of a Westmont Middle and High School journey to Japan
We interviewed Alana Scott, one of our middle school students, about her experience during the recent trip to Japan organized by Westmont Montessori School.
Wow.
That's what I thought when I was told about the possibility of going to Japan with my school.
     Wow.
That's what I said every day in Japan when I woke up to something amazing.
     Wow.
That's what I felt when I was honored with the chance to write about it for my school and the Metchosin Muse.
So here I am, writing to you reader and beyond, about all those wows.
Let's start with the beginning. Our vice principal, Jason Bowers got an email around this time last year from a parent at Westmont, oddly enough named Jason as well. Jason Holt. Believe me, there were countless cracks about it later.
What was one small email asking if the Middle and High schoolers would like to go on a trip to Japan for spring break took root and blossomed into an entire vacation and educational school journey, like how the cherry blossoms flowered while we were there. It took months of planning, but in September of 2022 both Jasons presented the idea to the parents of Westmont.
From there, 15 families between the Highschool and Middle School signed up their children to participate in Westmont's first international trip.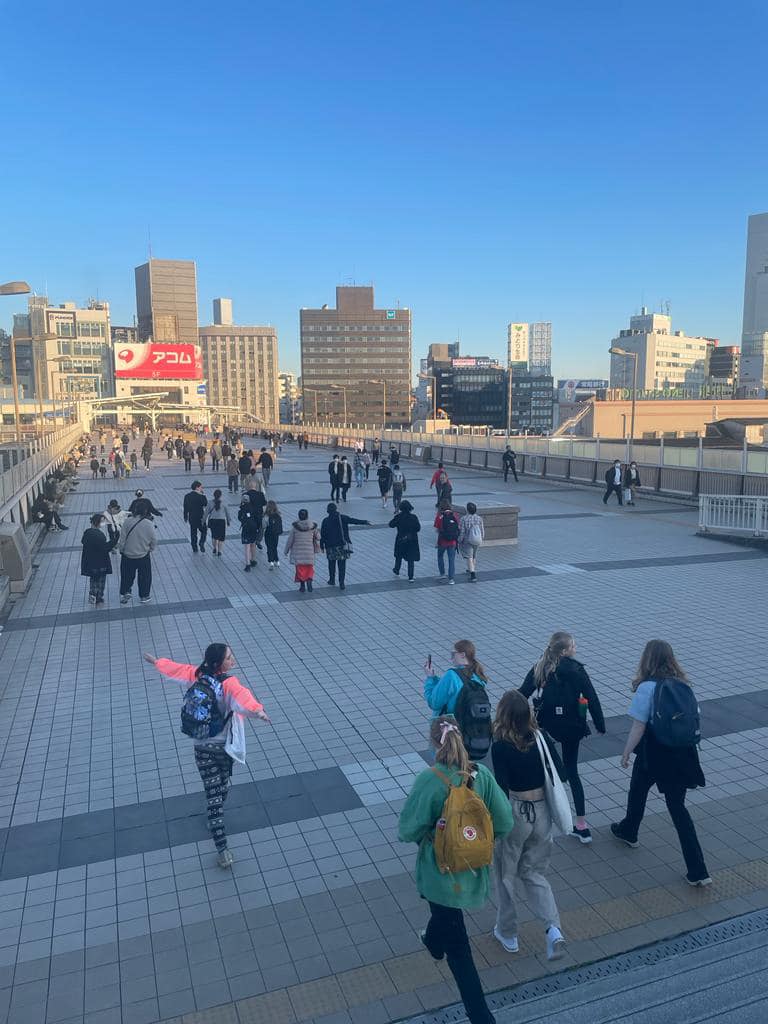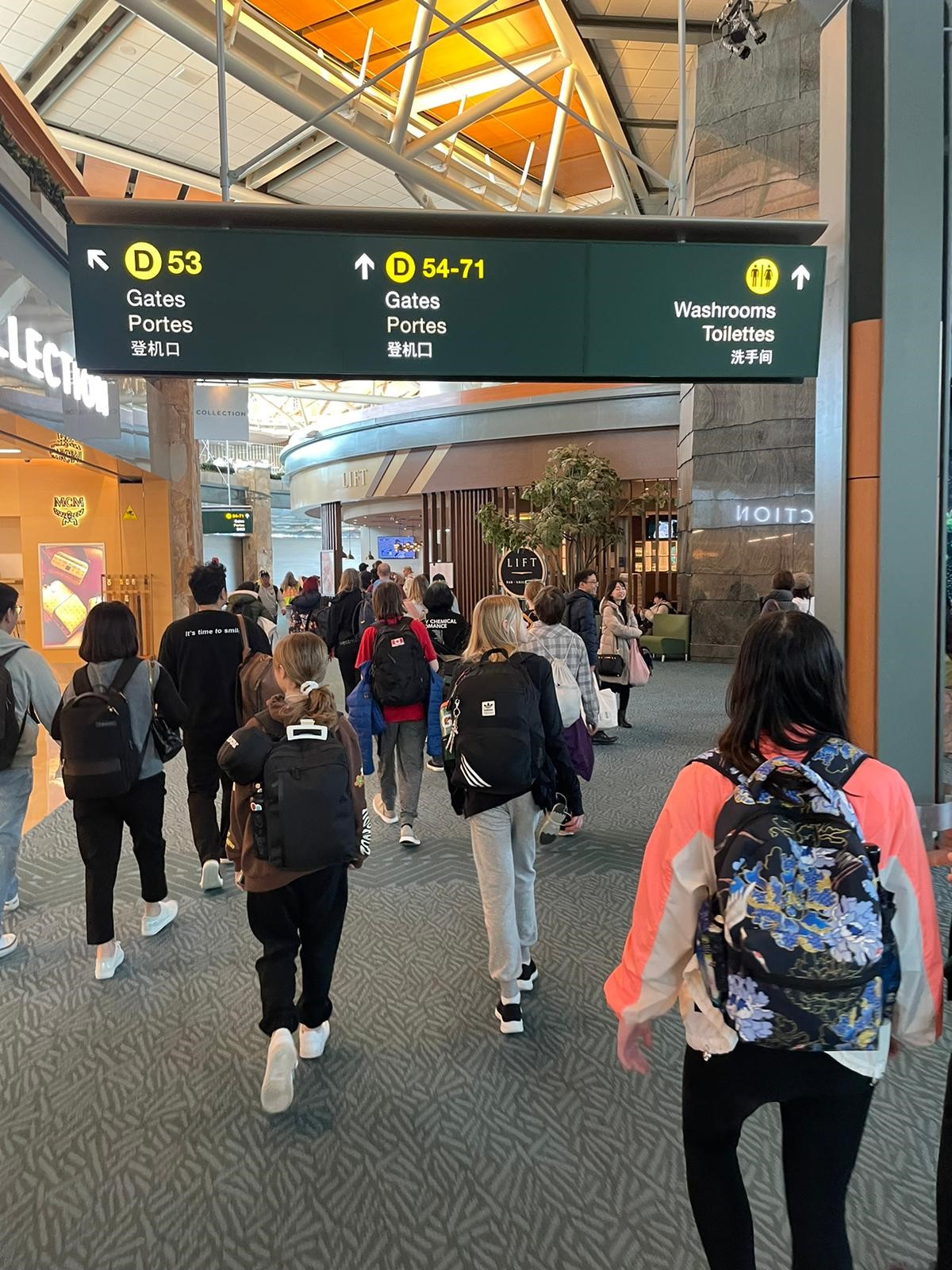 The time before the trip quickly shrunk even with the many meetings and preparations. Going with us would be Jason Holt, Jason Bowers, and another Westmont teacher, Lauryn Lewis. And then it was the day; tears, luggage, and sun were all there the morning we departed from our families into the unknown.
As someone who's used to international travel- family in the USA doesn't wait for anybody – it wasn't anything unfamiliar. However, it was a new experience for many of my classmates, but we all battled through the 40-hour day and made it out on the other side, jet lagged, but relieved.
This other side was Tokyo, the big mikan, the capital, the city of 808 villagers. We got our first taste of Japanese food, culture, and washlets. We started off our first day with a walking tour, the walk to kick off miles of hiking. We strolled and shopped around Asakusa after a very authentic Japanese breakfast at a Denny's. We visited a Buddhist Shrine, Sensō-ji, built in 1649 during Japan's Edo period. Made to honour the bodhisattva of compassion, Kannon, and is one of the most famous shrines in the city. There, we absorbed wisps of blessed smoke and saw the worshipers donating their yen.
Throughout the four days that we spent in Tokyo we saw many sights, heard thousands of sounds, and enjoyed new tastes. We wandered the imperial palace with its quiet plants and gentle weather. Compared to the storm and bustle of the fish market, with huge crabs, shouting vendors, and steam spreading scents. We would've gotten lost on our first day out without Jason Holt. He led us around and toured us through but still gave us free roam to explore and learn ourselves. Throughout the trip we often split into smaller groups and discovered on our own. And there was always something to discover.
Every time, everywhere.
In the early bright morning at a Zenkoji Monastery or in the depths of dark night at 643 meters high. Eating vegetarian or trying Takoyaki for the first time. Stepping through the back streets of Osaka or swimming and skiing in Nozawa Onsen.
We entered a place that everyone agreed was the most beautiful thing they'd ever seen. The TeamLabs Planets exhibition in Tokyo. It's impossible to describe seeing it for the first time, which is spectacular for a school trip, but inconvenient for writing. A place not from this world in seven rooms. The most I can say about it is to go and see it for yourself, then come back and try to describe it.
Educating ourselves on creators not from the same backgrounds as us is important to grow as people and expand our ideas. We got the chance to do just that when we visited the online video creators exhibit at the Mirakian Museum of emerging science and innovation. We enjoyed learning about the Japanese creators and their lives as video makers. Something that we didn't have to know any Japanese for was the lively beanbag toss game they set up. As much as I would like to say I won the entire time, I've got to hand it to my classmate Alex who had a much better aim than me. He also was the one navigating us most of the time, as we were left to our own devices (literally; google maps is a savior) to get ourselves from point A to point B. Or in some cases from Shibuya station to Yasukuni-jinja Shrine. From a place where an average of over 2.4 million people cross Shibuya daily to the same peaceful place where the emperor visits. Meiji Shrine, our first Shinto shrine. It was a calming and lovely experience, maybe not so much for the other prayers who had to listen to our banter.
Is it a good habit to get lost in science? Because we certainly got turned around once or twice (okay maybe three times) in the National Nature Museum. With showcases on unique Japanese sea life, lustrous rocks and gems, and the evolution of mankind. One of our favourite parts of the human exhibition was specifically the models showing what human life looked like at certain stages. In this last model you yourself got to go inside the glass case and be the example of modern human life.
We ended our city stay with a night trip to the Tokyo sky tree, 643 meters above the darkened streets we trekked along to reach it. At a dizzying height we could see miles away on the dim but illuminated horizon. It was enchanting to see so much of the city, quiet, but alive. With the golden lights spilling like tangled necklaces as far out as we could see.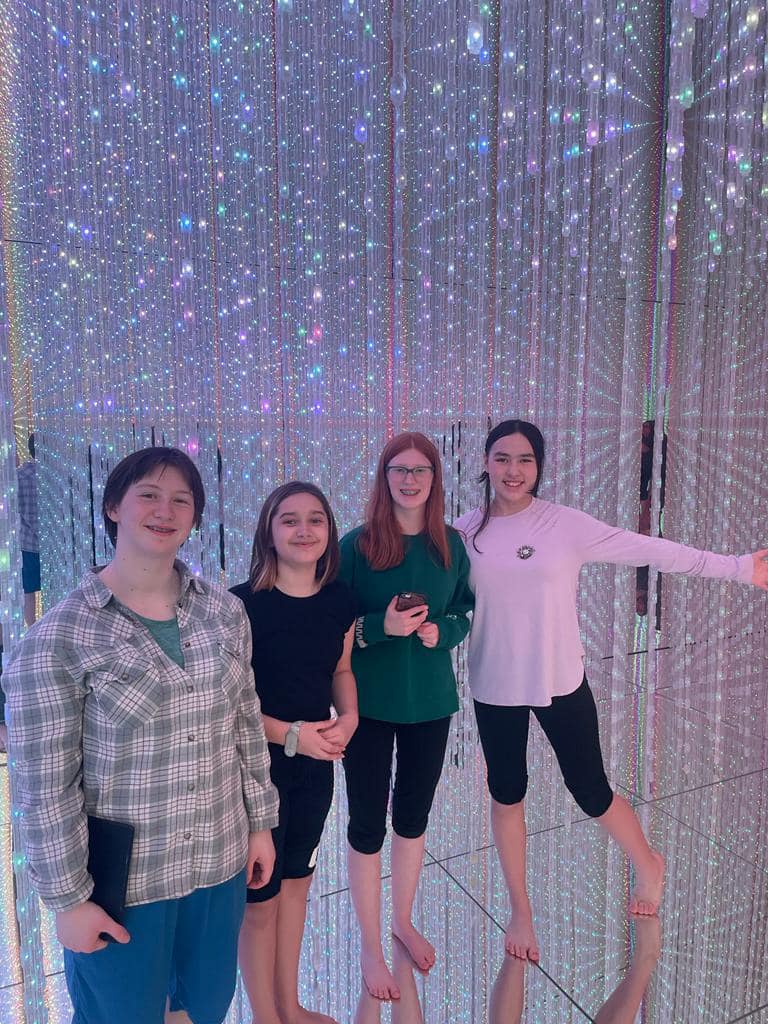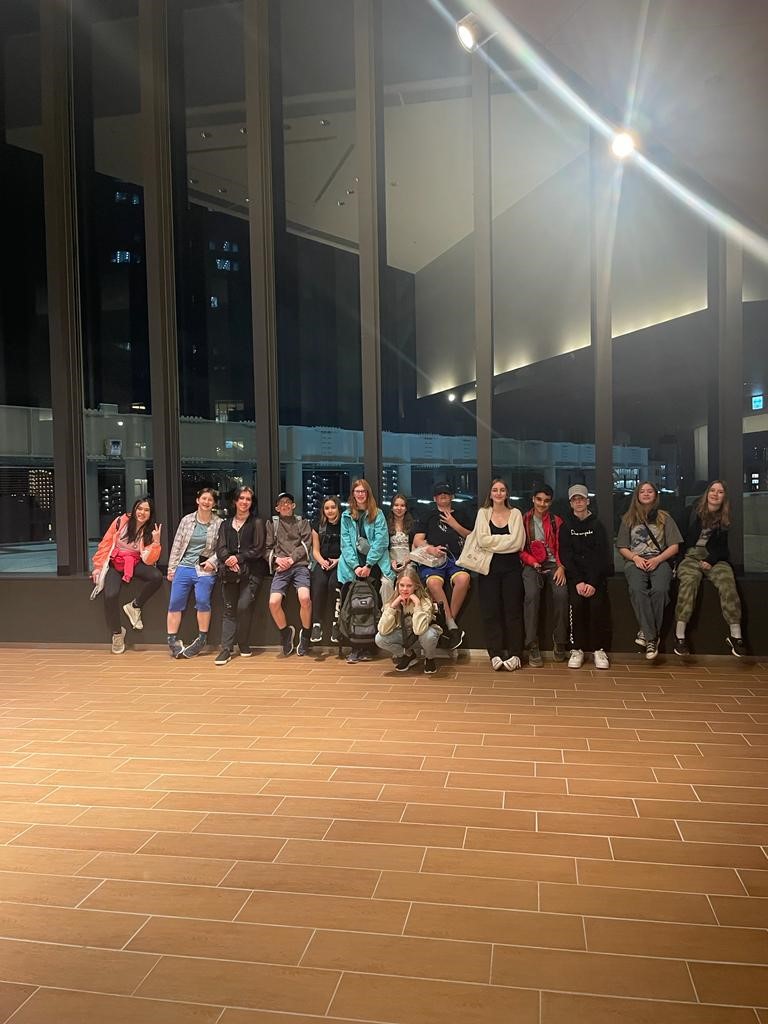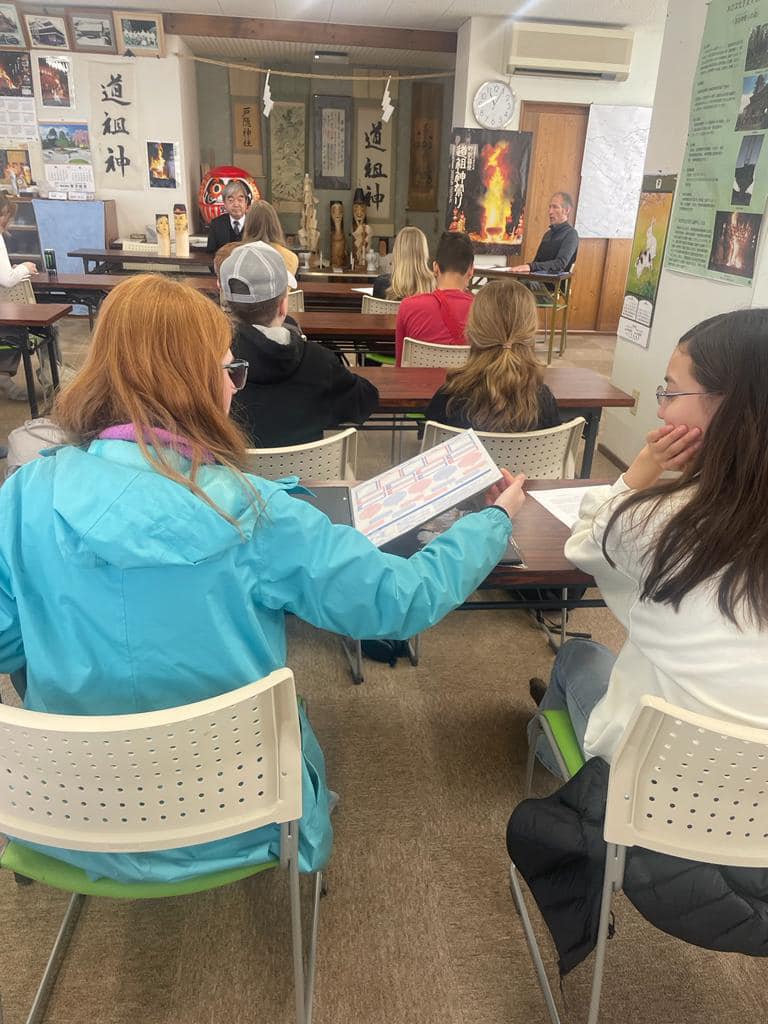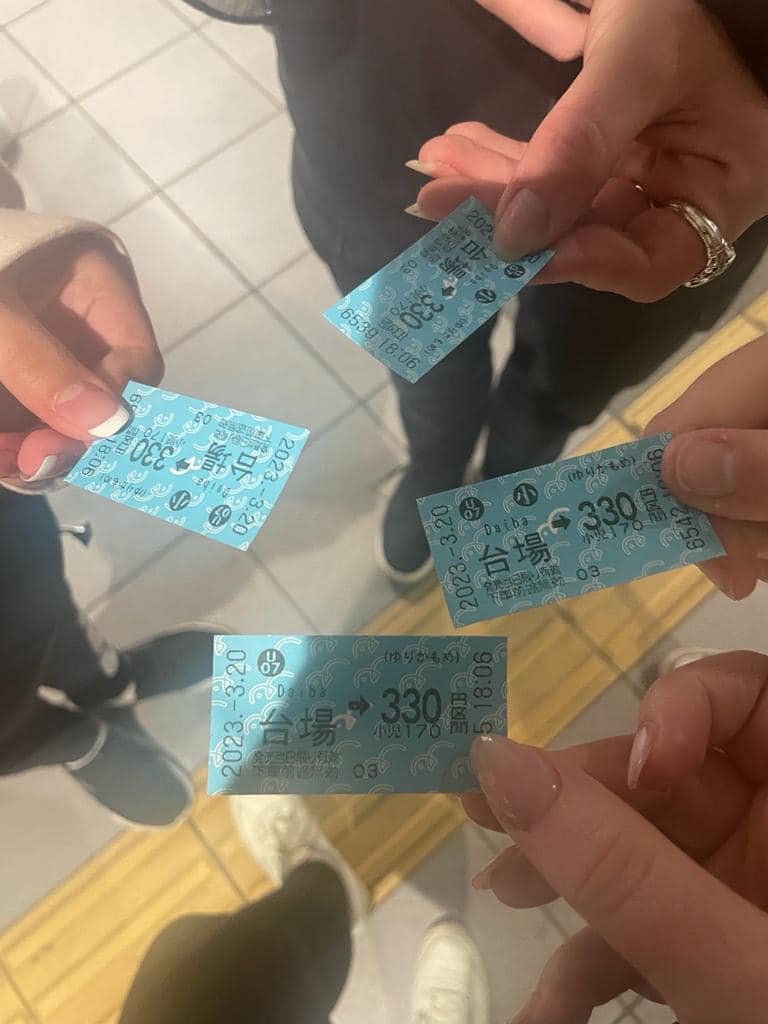 The next day we traveled to a cold, cozy, quiet town called Nozawa Onsen. Where Jason Holt and his family live. The place to offer us our first soba.
Up the hill that the town is settled on was the Base Camp; our lodgings. If you had the right room, then you could see the far mountains and stacked houses trailing all the way down to the bottom.
We spent our first morning in Nozawa Onsen 101. Listening to the elders and leaders of the community speak with pride about their town and the inner workings and traditions of it. One special tradition of theirs is the fire festival which takes place every winter on January 15. Where the villagers, especially the men aged 42 and 25, participate in bringing together everyone to burn a temporary shrine for good luck. They dry out the wooden shrine all year round, and you can eat next to it at a little restaurant down the hill where we had our first dinner.
One way to have an internal GPS of the town is to play the stamp scavenger hunt game. Without knowing that this is what we were doing, the teachers led us to the tourist information center and bought paper booklets for all of us. Each of these booklets had a blank sheet of paper with a number and a green page next to it. They then told us the purpose of this. We had to find the wooden posts with metal stamps on top, use the wood pestle to rub in the design (the green paper left the mark on the white page), and return with at least ten of these out of the 20 in the entire town within an hour to get a prize. While we were running around like chickens without their heads, we got to see the town in its full golden afternoon glory. Even if it was rushed and during a competition. With nature and steep roads, daily life and small businesses, we got to witness the differences in life between two places. Whereas in Tokyo you could find a vending machine every five steps, here there were only a few. Most of the shops didn't belong to chains, and there weren't any big billboards or flashing lights. This was because the town is trying to preserve its history and has laws about keeping things a certain way. Which I appreciate, since we got to witness the unique architecture in the buildings which had been updated in other cities.
Over the next four days we were allowed to roam the shops and restaurants, almost always having some sort of noodles for meals.  On the second day, half of us rode up to the mountain in a gondola lift. The other half spent a slow-paced day out in town at the bottom. While up at the top of the mountain we saw all below. Skiing and snowboarding up high. The snow seemed like thousands of small diamonds somebody smuggled up and scattered. It was chilled enough to keep the snow but warm enough to not have to wear gloves. It was quiet except for the scraping sound of skis on the cold hard hills. Sliding and turning like a water skier on a pond surface. Sleek and cool landscapes. Silky and playful breezes.
On our way out of the town to Zenkoji temple we visited one of the cutest animals to grace the earth.
The snow monkeys.
Adorable little creatures in the Jigokudani Monkey Park in Nagano. A morning and a lot of photo storage was spent adoring the monkeys as they bathed in the hot springs and picked bugs from their babies and partners. We were even privy to a mother carrying her baby on her hips while walking by us.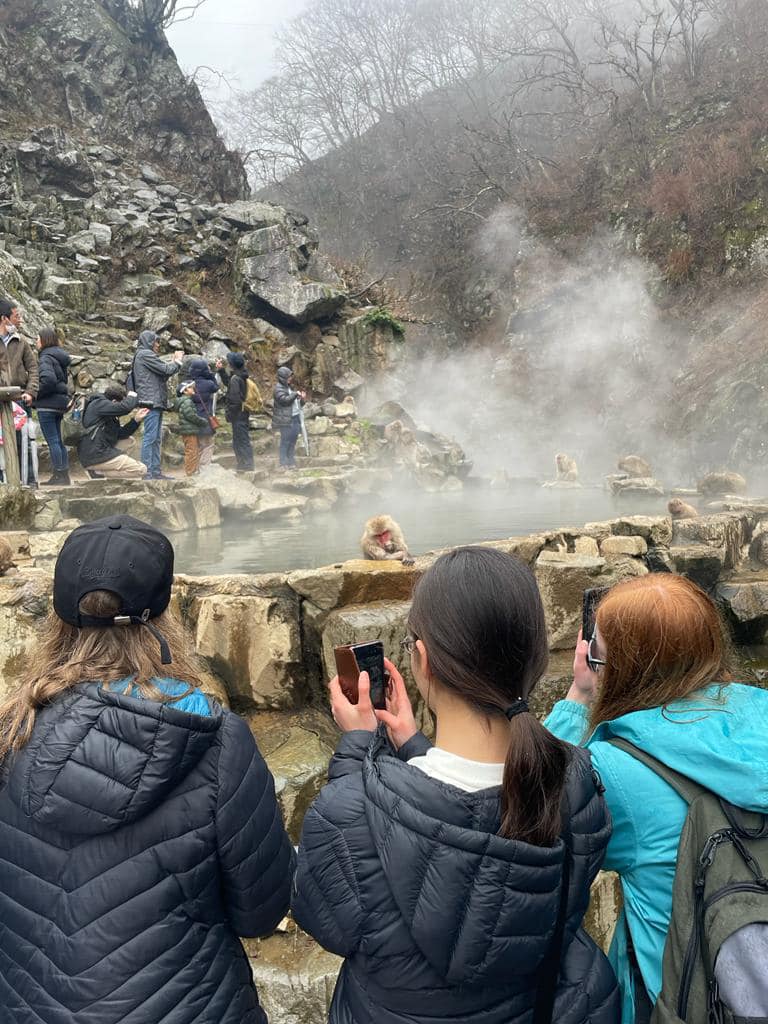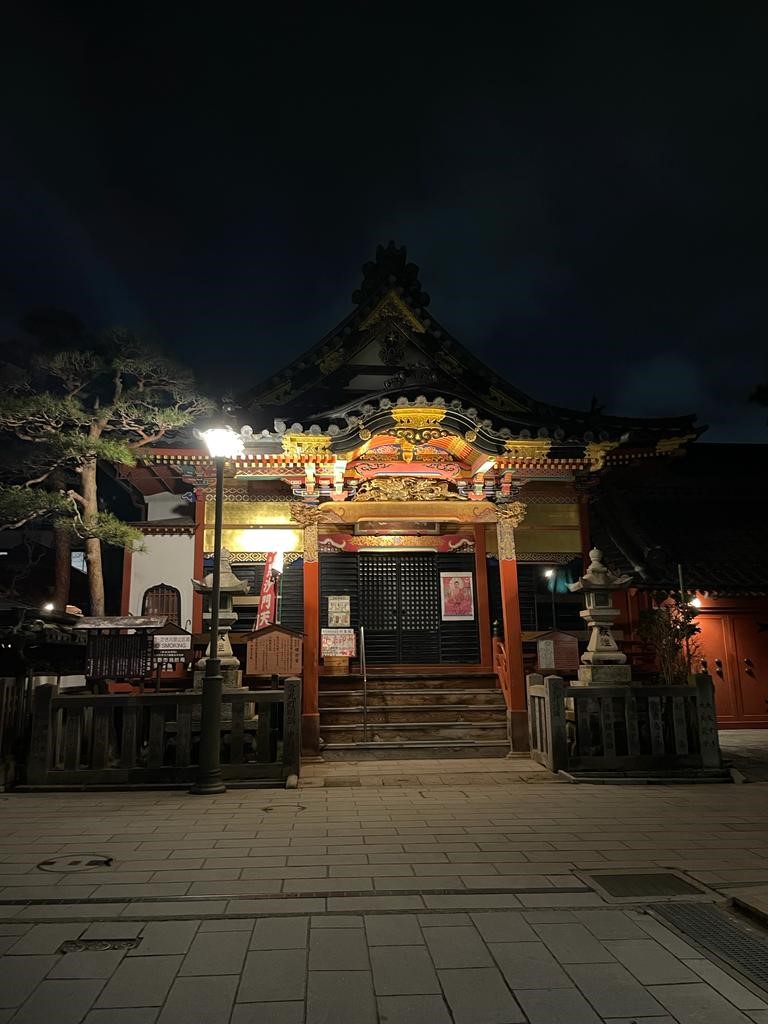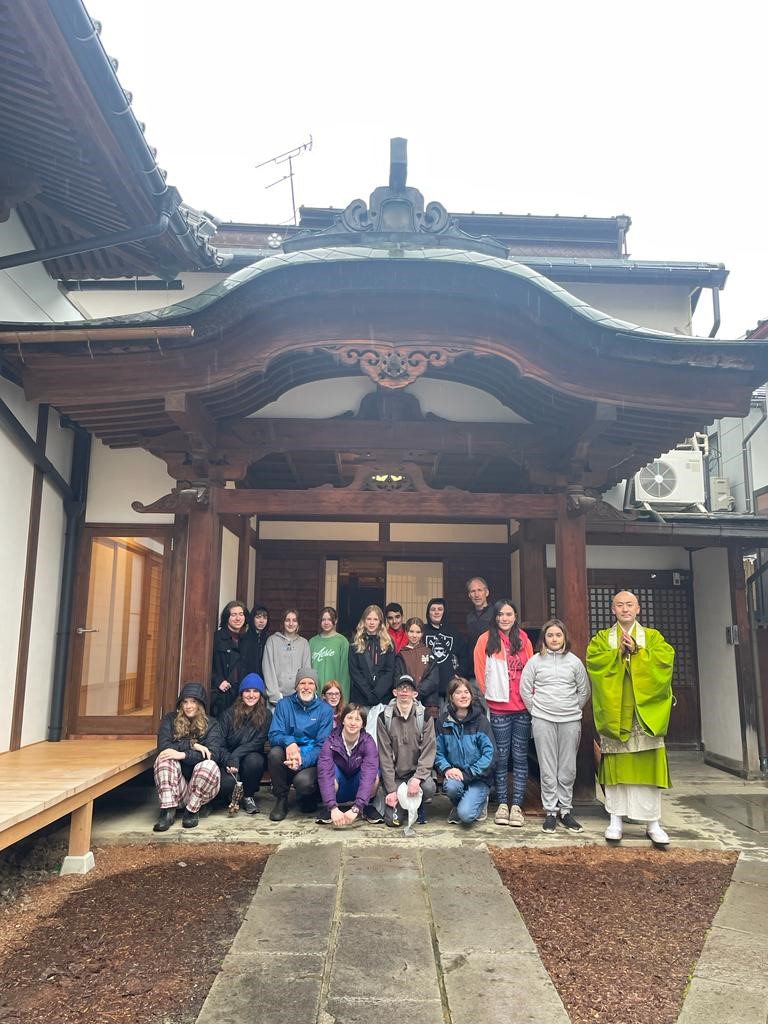 From there we took the train and hurried to our one-night accommodation at the Zenkoji temple with a kind monk who welcomed us in the dampening rain. We had a vegetarian dinner, which was a blessing for the vegan traveler among us, but also a bit of a curse since nobody –except Jason Holt, of course –knew what anything on the plate was. Beforehand we participated in a Zen meditation. Where we aligned our bodies, breath, and heart. It was a new practice for all of us, and unsurprisingly there were grumblings and complaints about numb limbs and foot pain. As to whether the monk heard this or not, we still do not know.
The sliding of the wooden door. The teachers soft voices. "good morning". Lights flickering on. The sun wasn't even up yet. But we were. At 5:00 am to partake in the morning service at the temple. Before the service we stomped through the wet cobblestone streets on a tour of the temple in the light rain. In a huddled group of umbrellas, we clustered around the grounds while the monk pointed out the statues and their history. There were four tall statues at the front. The two outwards facing ones were for protection and to scare off anyone with bad intent. We also were introduced to the Rokujizō, the statues of the six Bodhisattvas
 from the six different worlds in Buddhist beliefs.
Although we were yawning and rubbing our eyes we still kneeled and took the blessing as the morning ceremony conductor came by the tap our heads. Then we were ushered into the temple and waited until we could go down the steep steps into a long dark tunnel made of polished wood. There, is where the monk told us we would find a metal key that would bring us enlightenment. While we nearly lost Jason Holt, we all made it out "reincarnated" as the monk said. Then it was onto the next place in another city for one night.
I won't bore you with a place we spent less than a day in, but Mikawa had a wonderful beach and fishing area. Only me and my classmate Merric went though. Everyone else missed out. It was a beautiful day with the sun and a spring breeze tugging us forwards. The sea air whipped the scent of dead fish and sand into our faces. But when we came back it was to the chaos of a moving day. We spent the day travelling by train and bus to get to our place for the next three nights in Kyoto.
We were back in a large city again and it felt great. Which shocked me since I'm not an urban person by any measure. But the metropolis felt like home in a foreign place.
We set off the next day, fueled by a breakfast of grocery goods to catch a wooden boat taking us down the Hozugawa river. Led by a crew of four captains with three in the front, and one steering in the back. We had a calm and lovely boat trip bobbing down the waters, unless we were in a rapid it was mostly a peaceful ride. When in a rapid, the waters churned a little more and the waves rolled into each other and our boat would rock and arms of water would splash us. Both the Jasons got hit by a particularly large wave.
Afterwards we shopped in the market area near the Arashiyama Bamboo Forest. Which we then wandered through and enjoyed. It wasn't too hot outside, but the shade was a relief. The calming nature of the forest was refreshing from all the walking, moving, and experiencing from the past 12 days. It didn't last long, but I think it really helped all of us.
We then went on to the Ryoan-ji temple with its well cultivated gardens and large statue of the Buddha behind a long pool of water. Jason Holt informed us that it originally belonged to an aristocrat couple who were both very smart. But when the husband died his wife dedicated the plot of land to him and designed the entire garden and tomb, which was nothing to sneeze at, despite the pollen. It turns out the gardens are famous for their rock placement. Even though it was designed as a tomb, it still gave off a happy and peaceful atmosphere with the tidiness of the rocks and plants. Even the birds weren't in a hurry.
I woke up the next day with a sore throat and was instantly eaten alive by terror. Had I gotten sick?
No.
Last night smacked into me.
We had all crowded into a soundproof room with seats and a table. Two screens were situated on opposite walls. Everyone cheering and shouting along to the lyrics. Microphones and merriment. We sang our voices dry karaoking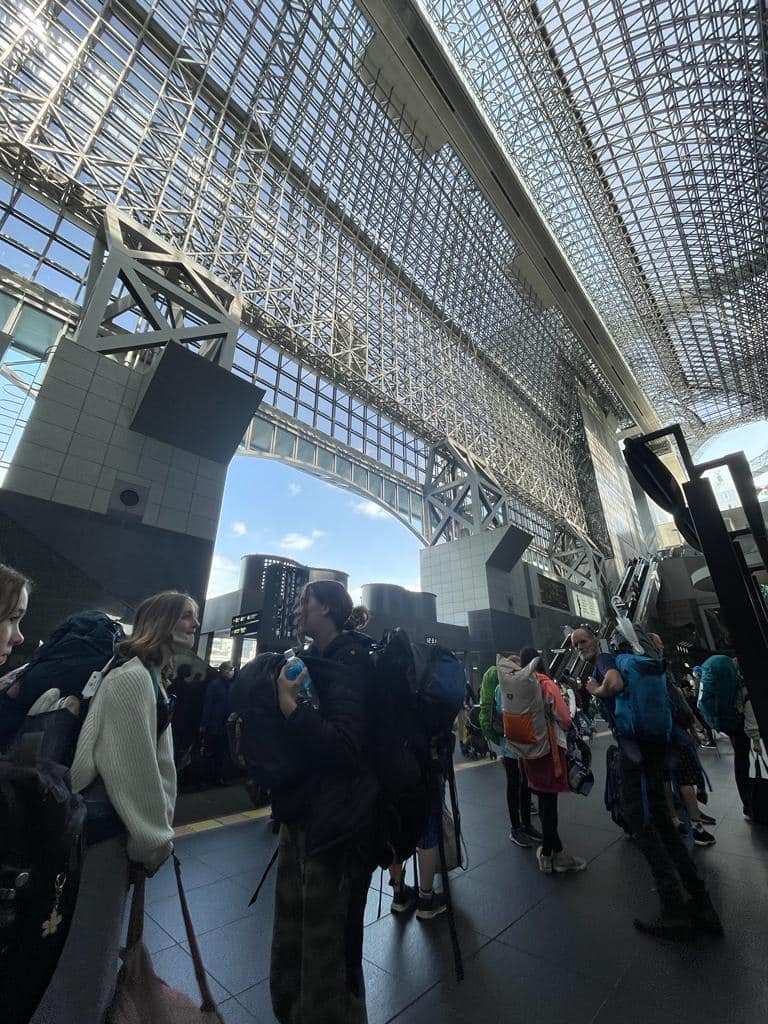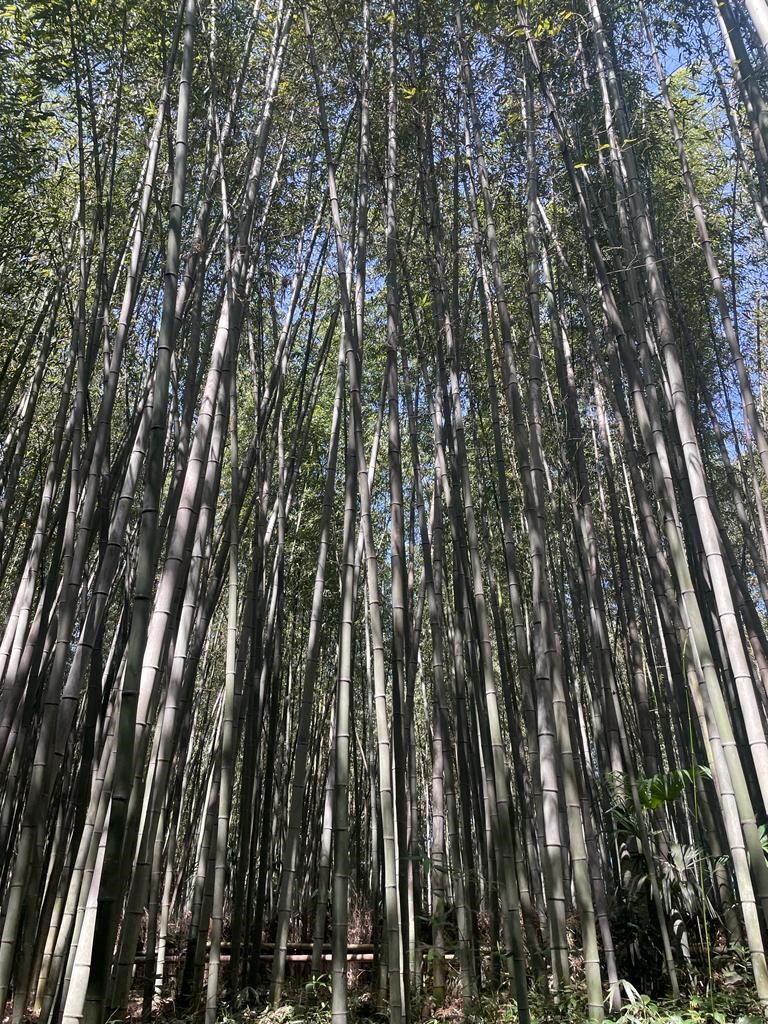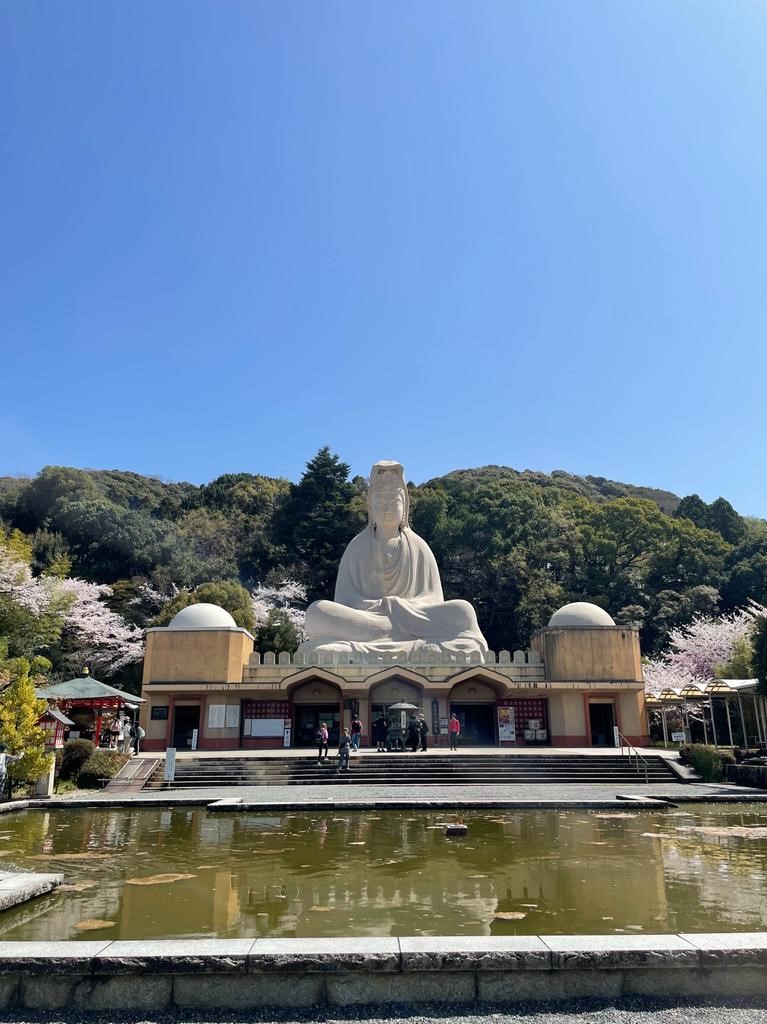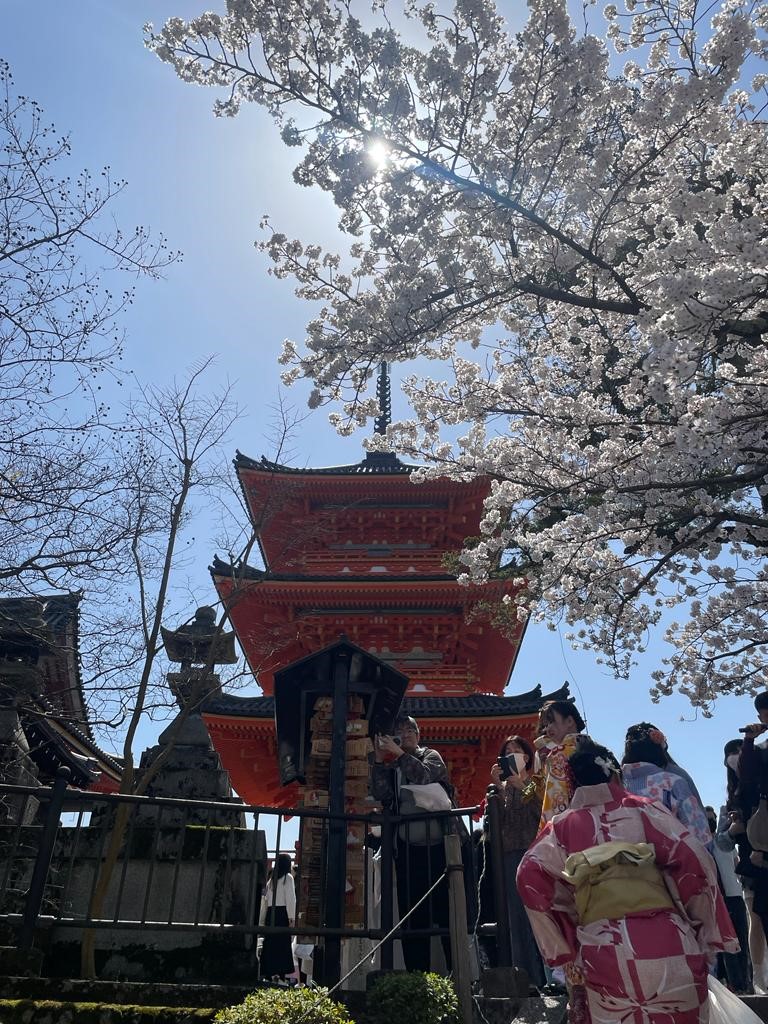 But alas it was another travel day, so we were on the move to Himeji. But first a trip to the Hiroshima Peace Park. The park was beautiful and bright, very happy for a place with such a sad history. It weighed on all of us, the deaths. I won't go into detail about what we saw, as that may be disturbing for some. Going through the museum with the photos and the art we saw war, evil, and suffering. With effects that lasted long after the bombing. We learned about the hurt and torture the citizens of Hiroshima were burdened with.
On a lighter note, we spent the afternoon exploring Himeji castle. With its old wooden walls and steep staircases. There was plenty of room, but there were also plenty of people, so things became a bit squished on the high stairs. Built in the 14th century with 83 rooms and reconstructed in 1577 and 1964, also known as "White Heron Castle" Himeji castle is Japan's oldest castle.
Once again it was a travel day and we awoke to chaos, but more controlled this time since we had gotten used to the road life. We hopped on a train to Osaka and unpacked at the Dotonbori hotel with its four funny statues guarding the entrance. We toured the shopping area with its colourful hippy side, and the more sophisticated expensive side.
Before we caught the train that would carry us to Nagoya, we speed shopped along Shinsaibashi-Suji Shopping Street under the ticking hand of the 20-minute timer. There, we saw street performers, large animatronic crabs, and stickers plastered on every streetlamp. It was a burst of life and movement with smaller streets branching off and the back shops like smaller flowers on this tree of expression. Unfortunately, our time there wasn't very long, and we were at it again, bags packed, prepared to catch the train to Nagoya.
Once there, we took our time and gave ourselves room to breathe. In a nearby shopping center, we roamed for three hours in our groups. Cleaning up on shopping and experiencing. Our final dinner was at a nearby Italian Pizza restaurant where I lead a toast for Jason Holt. There were many thanks and acknowledgments for Jason Holt, the person who started it all.
We said our final goodbyes to the amazing country we had just spent two weeks in and departed the next morning. We were happy and fulfilled but ready to go home.
And now, exactly one week later I'm recapping all those crazy wows to you. I hope you enjoyed reading about our travel as much as we enjoyed going.
Alana Scott,
Westmont Montessori Middle School Student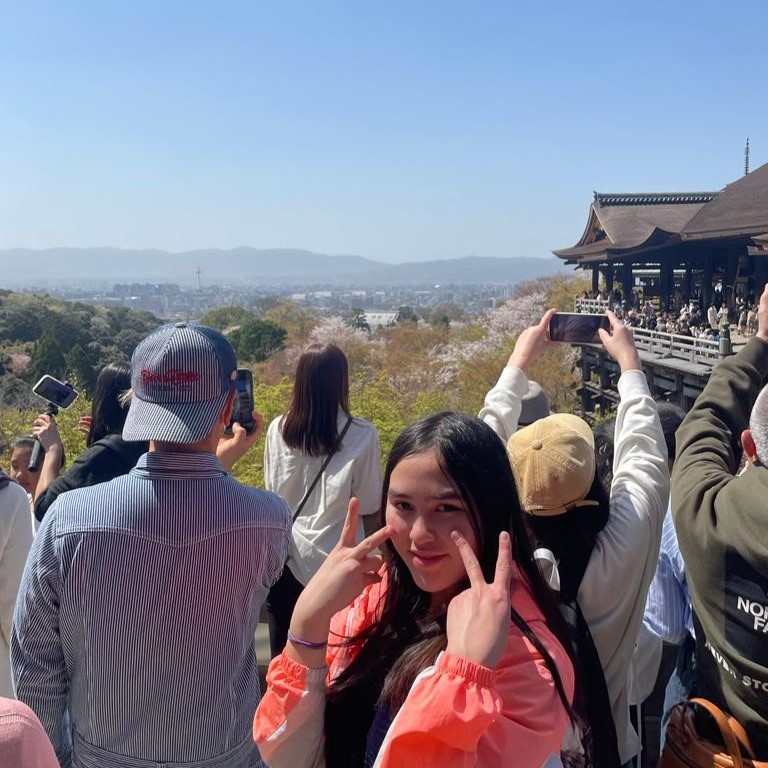 Want to learn more about Westmont Middle and High School program?